HOTEL PROS WORLDWIDE
Hotel Pros Worldwide has developed a smart wristband for storing hotel guests' data
iConcierge will enable hotels to identify customers, manage payment systems and even open doors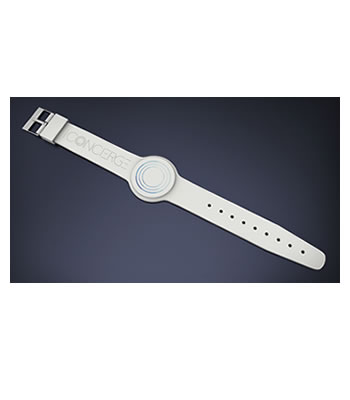 Hotel Pros Worldwide, the company specialised in exporting products and supplies for the hospitality industry, has designed and developed iConcierge, an integral guest management system. The system consists of two parts: iConcierge Tag, a smart wristband that integrates a chip with NFC (Near Field Communication) technology, which allows you to store data on it that can be scanned by a reading terminal without requiring a network connection. This wristband is given to guests at check-in; and iConcierge App, an application that can be installed on any mobile device with Android operating system and NFC technology, which enables the information contained in the wristband to be processed and managed by your hotel staff. It is a complete system that offers many benefits: it is cheap, easy to use and highly customizable to the customer's requirements.

The Hotel Pros Worldwide system can be used to replace keys, cards and logon passwords in all parts of the hotel, for both guests and staff. Thus, room doors, use of lifts, restricted access to exclusive areas (spa, gym, etc.) or opening safes can be managed easily from the smart wristband.

With iConcierge, guests will be identified at all times while they are inside the hotel premises, from their name, passport number, health information to prevent possible medical emergencies (diabetes, propensity to heart attacks) and to act quickly if something happens (blood group, allergies to medicines, etc.), to how they like their steaks done. In addition, the wristband simplifies the payment system by using the electronic purse function, either debiting from a balance or linking to a credit card.
The company's pioneering system includes a functional geolocation system using RFID receivers inside your hotel, which offers multiple security and safety applications, from locating guests if the hotel has to be evacuated to parental access control to areas of your hotel for parents with young children.